Welcome to Eloy Fire District
"Mission Statement"
"To Provide protection through selfless service and respect the relationships to both our external and internal community"
ELOY FIRE DISTRICT,
ELOY, ARIZONA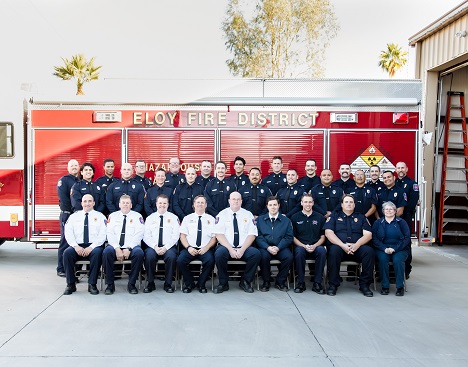 Welcome to the Eloy Fire District web site. We hope you take the time to review our entire web site. Please let us know if you have any questions or would like to see something added to this site.
The Eloy Fire District is dedicated to providing quality services to the citizens of Eloy and all of our visitors that pass along Interstate 10. We try and live up to our Mission Statement every day.
Notice of Information Breach
At Eloy Fire District, we value transparency and respect the privacy of health information in our possession, which is why we are writing to let you know about an inadvertent disclosure of the protected health information of nine individuals, what we did to try to retrieve their information, and steps those individuals can take to protect against possible misuse of their information.
On June 13, 2021, pursuant to a Freedom of Information Act / Arizona Public Records Law request, we were required to provide records containing the protected health information of nine individuals to attorneys representing an entity who made the request under the above stated laws. When we provided the records, we believed that the protected health information had been redacted. However, on June 23, 2021, the attorneys who were provided the records indicated that they were able to un-redact and view the protected health information. Since that time, we have worked diligently to have the records returned and/or destroyed, but we have not been able to retrieve or confirm destruction of the records as of the date of this posting. As such, we wanted to provide notification of this inadvertent release of protected health information.
The types of information potentially involved are first and last name, detention center address, date of birth, UCI (unique identifying number or code generated), medications (if applicable), medical information, diagnosis, and disability codes.
As explained above, we attempted several times to have the records returned and/or destroyed. Moving forward, we are implementing new processes and procedures to ensure that protected health information in records that we are required to produce is redacted and permanently unreadable, which includes additional employee training regarding redacting records.
While we have no evidence indicating the disclosed information was misused, we strongly recommend remaining vigilant, monitoring and reviewing financial and account statements, and reporting any unusual activity to the institution that issued the record and law enforcement. Please see "other important information" on the following pages for guidance on how to best protect against identity fraud.
We sincerely regret this incident occurred and for any concern it may cause. If you have additional questions, please call 1-888-668-1308 or email us at eloyfiredistrict@eloyfire.org.
If you need additional information, please click here